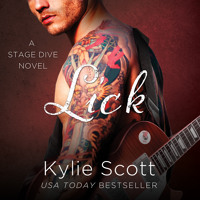 Title: Lick (Stage Dive #1)
Written by: Kylie Scott
 Narrated by: Andi Arndt
 Length: 8 hrs and 37 mins
Waking up in Vegas was never meant to be like this.
Evelyn Thomas's plans for celebrating her twenty-first birthday in Las Vegas were big. Huge. But she sure as hell never meant to wake up on the bathroom floor with a hangover to rival the black plague, a very attractive half-naked tattooed man, and a diamond on her finger large enough to scare King Kong. Now if she could just remember how it all happened.
One thing is for certain, being married to rock and roll's favorite son is sure to be a wild ride.
PURCHASE LINKS
"Love isn't always smooth or straightforward. It can be messy and painful … Doesn't mean it isn't still the most incredible thing that can ever happen to you."
My top rock star couple, David and Evelyn are now in audio! The Stage Dive series is by far my most favorite when it comes to rock stars and romance and you can listen to the first chapter here!
Lick –  In rock music, a lick is "a stock pattern or phrase" consisting of a short series of notes that is used in solos and melodic lines.
So, even if the blurb basically says it all, and even though you can see the plot from the get go, there were still some surprises in there that I was happy to discover! Evelyn wakes up in Vegas, married to David. A rock star.  David remembers everything from the night before, including their Vegas wedding. She on the other hand, not so much.
Kylie is a long time fan of romance, rock music, and B-grade horror films. Based in Queensland, Australia with her two children and one delightful husband, she reads, writes and never dithers around on the internet.
Contact her at kylie@kylie-scott.com
SOCIAL MEDIA
∇
FACEBOOK | GOODREADS | TWITTER| WEBSITE | PINTEREST